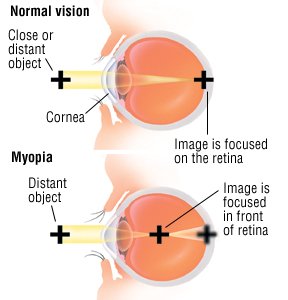 In order to see perfectly light enters the eye through the bended surface of the eye, then refracts the light to the back of the eye to the retina. The retina then sends a signal to a brain, letting the person know what they are viewing. Myopia occurs when the length of the eye is greater than the optical area. With myopia the light does not refract correctly, and the light does not reach the retina, this result in and blurry or unfocused image. Myopia is referred to as nearsightedness or shortsightedness. A person with shortsightedness can see object up close, but objects faraway will appear blurry.
Shortsightedness is usually discovered in childhood. Childhood myopia is discovered mostly in school-age children when it becomes evident that they have trouble seeing the chalkboard. Signs that your child might have shortsightedness are sitting closer to the TV then the rest of the family, not being able to scan the room to find something, and having to move close to objects to read them. The growing years of a child tends to make nearsightedness progressively worse, but once the 20's are reached the progression stops. Children and teens with myopia may complain of eye strain or headaches.
When vision problems are discovered seeing an ophthalmologist is essential to correct vision, and prevent any degenerative eye disease from getting worse. An Ophthalmologist will put the patient through a series of test. Some of the tests include Snellen eye chart, eye pressure measurement, vision color check, and refraction test. The refraction test lets the ophthalmologist determine the correct prescription.
Shortsightedness treatment varies depending on personal preference. Glass and contact are the easiest solution for myopia. The lenses on the contacts or glasses correct the refraction of the light entering the eye so it reaches the retina correctly. This is why the refraction test is so valuable since it determines the strength of the corrective lenses. Lasik surgery is an eye surgery that corrects vision of about 95% of patients to 20/20 vision. However, there are risks with any surgery it is crucial to discuss all the benefits and cons with a doctor before committing to surgery. Lasik surgery uses a laser to fold back the cornea of the eye, and then the eye is resurfaced, then the cornea is placed back. Recovery time is remarkably short for Lasik, and most people say they can see clearly by the next day. Next eye care tips: Identifying Symptoms of Myopia and Available Treatment.
Love Your Eyes: Prevent Myopia
Read More